EmployLNK
Mark your calendars for the EmployLNK Spring Job Fair on March 26!!! 
EmployLNK invites you to our Case Manager and Job Seeker Career Fair on March 26 at the Center for People in Need. Please see below for agenda. Note that the Veterans Career Fair will be held in April at the Veterans Affairs Center on 70th Street. More details will be shared closer to the Veterans Fair event date. 
When: Thursday, March 26, 8 a.m. - 12 p.m.
Where: Center for People in Need | 3901 N 27th Street, Lincoln, NE 68521
Full Agenda:
8 a.m. - 8:30 a.m. - Case managers arrive, coffee and check-in
8:30 a.m. - 8:45 a.m. - Southeast Community College presentation on STEM scholarships for new and current students
8:45 a.m. - 9:15 a.m. - 15 service providers pitch for two minutes to businesses (Email Travis Beck at travis.beck@nebraska.gov if you're interested in presenting)
9:15 a.m. - 9:30 a.m. - Break into career fair mode
9:30 a.m. - 10 a.m. - Case managers visit with businesses
10 a.m. - 12 p.m. - Fair opens to general public
Upcoming EmployLNK Events
Vanessa Meinberg from Southeast Community College will be presenting at the February 19 EmployLNK business meeting on Project HELP. Project HELP (Health Education Laddering Program) is a five-year grant funded project through the Department of Health and HUman Services. It is designed to assist income-eligible individuals with education, training and supportive services that will place them on a healthcare career pathway to jobs that pay well and are in high demand. For more information, please visit Project HELP.
Job Openings
The Annual Steamfitters Apprenticeship Applications will be accepted at the Department of Labor's office located at 1111 O Street, Suite 222 (SCC Building, 3rd Floor), March 2 through March 6, 2020. Please contact Jasmyn Smith for an application, test times or for more information. 
NEworks has numerous openings across the state, including multiple career pathway positions in a variety of focus areas
City of Lincoln currently has 20 openings
SCC STEM Scholarship Information
Landscapes Unlimited LLC accountant position
SECO Scholarship Finder

The SECO Scholarship Finder makes searching for education funding and career development opportunities fast and easy. Search for financial assistance resources and professional development opportunities offered specifically to military spouses and family members.

You are invited to the IRS / SBA Nebraska Small Business Resource Forum on March 17! This forum gives you the opportunity to network with over service providers and to learn all about the programs and services they bring to the community. You'll also get the latest updates on small business information from the IRS and the SBA! We encourage you to bring not only your organization's latest information, but also any topics or issues you'd like to discuss. This meeting is open to any small business resource, association, organization and small business owners that are interested in attending. Please help spread the word if you know of any organizations or business owners that would like to attend. 
March 17, 2020 | 1 p.m. - 2:30 p.m.
UNO Barbara Weitz Community Engagement Center | 6400 S University Road North, Omaha, NE 68182
Parking is free and available in Lot E.
Please RSVP by March 10.
If you have questions, topics or issues you'd like to discuss at the forum, please do not hesitate to contact Kathleen Fox at the IRS (Kathleen Fox, 913-722-7554 / kathleen.m.fox@irs.gov)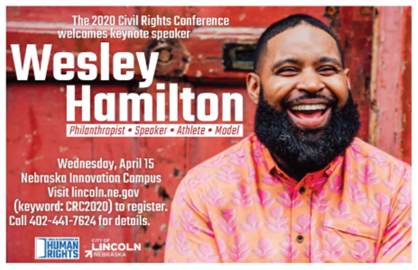 Join us for our Civil Rights Conference 2020 (CRC2020)
Featuring Keynote Speaker: Wesley Hamilton
Wednesday, April 15, 2020 | 8:30 a.m. - 4:30 p.m.
Free Pre-conference, Tuesday, April 14, 2020 | 1 p.m. - 5 p.m.
Nebraska Innovation Campus, 2021 Transformation Drive, Lincoln, NE 68508
(Includes breakfast, plated lunch and snacks)
Call 402-441, or email lchr@lincoln.ne.gov for details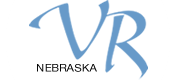 The Transition Summer Program is to develop innovative programs across the state using best practices to provide opportunities for career exploration, employment preparation and work experiences using techniques such as short-term internships, job shadowing and hands-on learning activities for students with disabilities to increase the likelihood of successfully transitioning to competitive integrated employment. According to NDE, there were 14,048 students aged 14 to 21 years verified for special education services in 2018-2019.
NDE intends to establish a cooperative agreement with several qualified applicants for a period of up to four months to develop and implement Pre-Employment Transition Services for eligible students with disabilities aged 14 to 21 years that will be enrolled in school during the 2020-2021 school year. The program budget cannot exceed $30,000. The program budget per award is based upon available funds. 
Applicants must use the prescribed format. Applicants are due on Friday, March 16, 2020, by 5 p.m. CT. Incomplete or late applications will not be considered for funding. Awarded applicants will be notified no later than April 15, 2020. 
Email Laurie Colburn for more information. 
Laurie Colburn, MS | (402) 309-4918 
Senior Employment Specialist, Nebraska VR
3901 North 27th Street, Suite 6, Lincoln, NE 68521