Last week marked Lincoln's sixth annual Startup week, with five days jam-packed full of nearly 50 free events taking place in Lincoln's various entrepreneurial spaces with over 200 attendees and a mix of local and national speakers. The week was rich with networking sessions, diverse panels, tech and maker fairs, presentations, happy hours and more. A wide range of topics were covered, including corporate innovation, workplace culture, marketing, diversity, technology, social impact, scaling, gender equality, and more. 
Startup Week, powered by presenting sponsor Windstream, was designed to build momentum and opportunity around entrepreneurship. "Lincoln Startup Week is crucial to continuing to build our entrepreneurial ecosystem. It is a week to not only celebrate our community, but to educate and create collisions that can spark more ideas, more creativity, and more innovation" said Christina Oldfather, Director of Innovation and Entrepreneurship with the Lincoln Partnership for Economic Development.
This year, the startup community also partnered with Lincoln Calling, Lincoln Young Professionals Week, and Make Lincoln to provide a full range of music, arts, making, and business and tech education over the course of the week.
Highlights from the week include: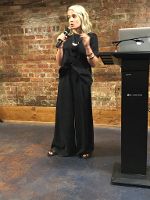 Liz Forkin Bohannon : "The F Word: Engaging Men & Women in the Movement for Equality"
Liz, Founder and CEO of Sseko Designs, gave an eye-opening and empowering presentation on statistics and facts about gender inequality and how we can move forward for equality in our own workplaces and lives. Liz said, "I'm over invitations to all-women conferences to talk equality. We have to have men at the table". She stated that venture capital industry partners are 89% male and companies headed by male executives receive 98% of all venture investments and the problem is not that women are not entrepreneurs, the problem is inequality. Liz also spoke about work-life balance, rape culture, deeply-rooted biases that we are unaware of and provided actionable examples on how we can close the gap of inequality in the workplace, at home, and in our society.
1 Million Cups with Windstream: Tech Talent in the Silicon Prairie
Panelists Emily Olinger, People & Culture at Spreetail, Allison Hatch, Talent Attraction Coordinator with the Nebraska Department of Economic Development and Steve Cooper, Executive Director at the JS Raikes School spoke discussed tech talent in Nebraska. The panelists shared their unique perspectives on how far we have come with producing, retaining and attracting Tech Talent in Nebraska, but also, how much work there is yet to do while communities across the silicon prairie are facing brain drain. Cooper stated that unlike misconceptions, only 15% of Raikes students are going to coasts, while the other 85% are going elsewhere. He explained that we must strive to keep that 85% in Nebraska, rather than let them slip away to other communities. Olinger described situations she has observed in her job where Nebraskans have not individually marketed ourselves as well as we could. She said, "Recognize what you yourself are saying about where you live. It's our responsibility to positively market Nebraska. We must be our biggest cheerleaders." In addition to developing and retaining talent in Nebraska, the panelists discussed how we should engage our youth, beginning in elementary school, in technology education.
The Zillow Track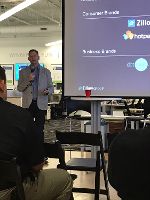 The Zillow Track included three events, "Growing Startups and Culture: Why culture should be a part of every business's scaling plans", "Before and After: Transitioning from a startup to a growth-stage company and beyond" and a Zillow Group Happy Hour.  In the Zillow Track keynote, Zillow Group's Vice President of People and Culture, Dan Spaulding, shared how the company established its award-winning culture that empowers employees, how that culture has evolved, and how it maintains a start-up feel as it expands. Zillow Group's panel included Doug Foral, GM of Mortech, Emily Olinger, People & Culture at Spreetail and Clint! Runge, Managing Director at Archrival. The panel discussed what how they overcame challenges once their startup experienced growth and acquisitions.
Throughout the power-packed week, the high energy, collaboration and excitement proved that the Lincoln startup ecosystem is thriving. The Lincoln Partnership for Economic Development is proud to be a supporter and organizer of the Lincoln startup community.