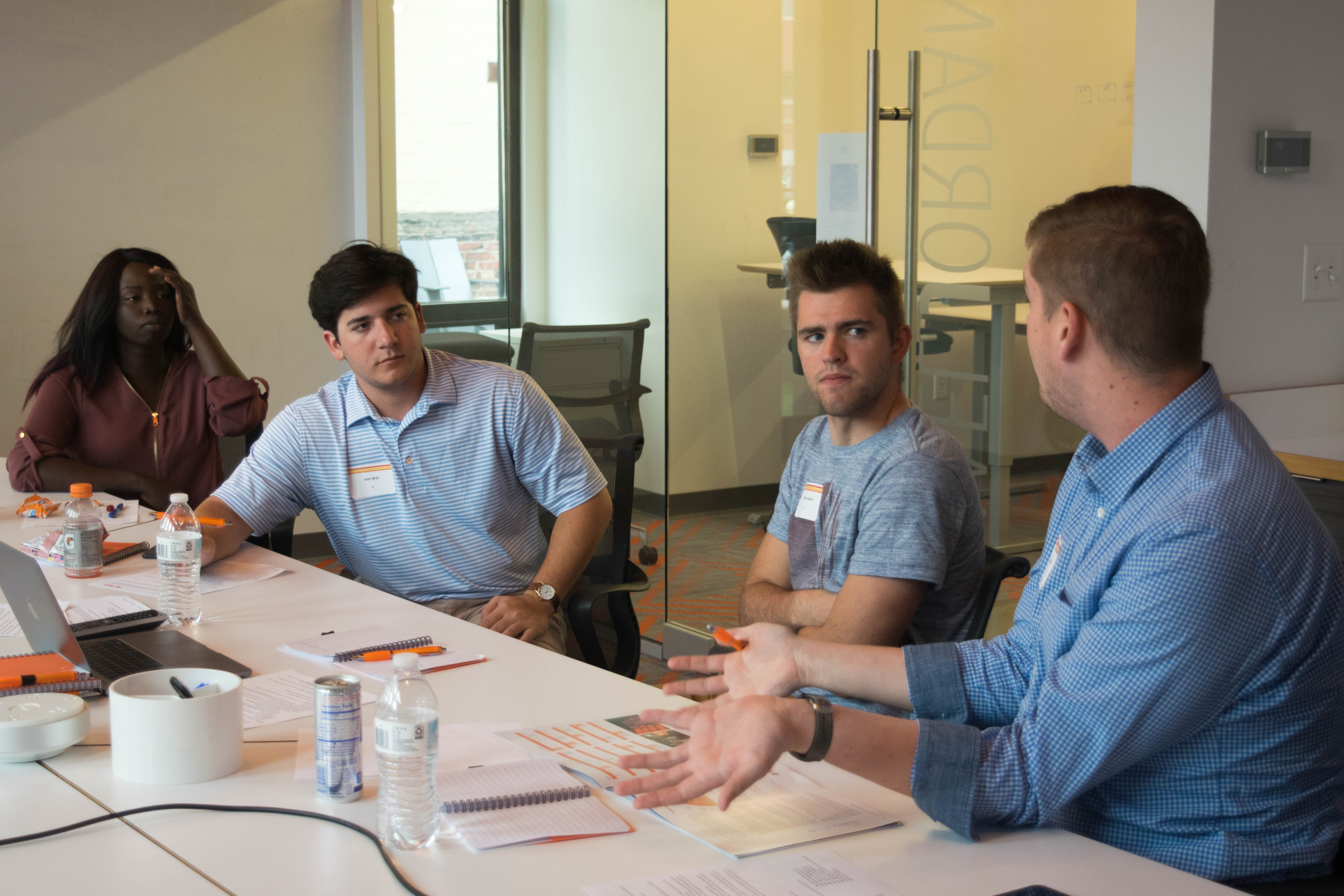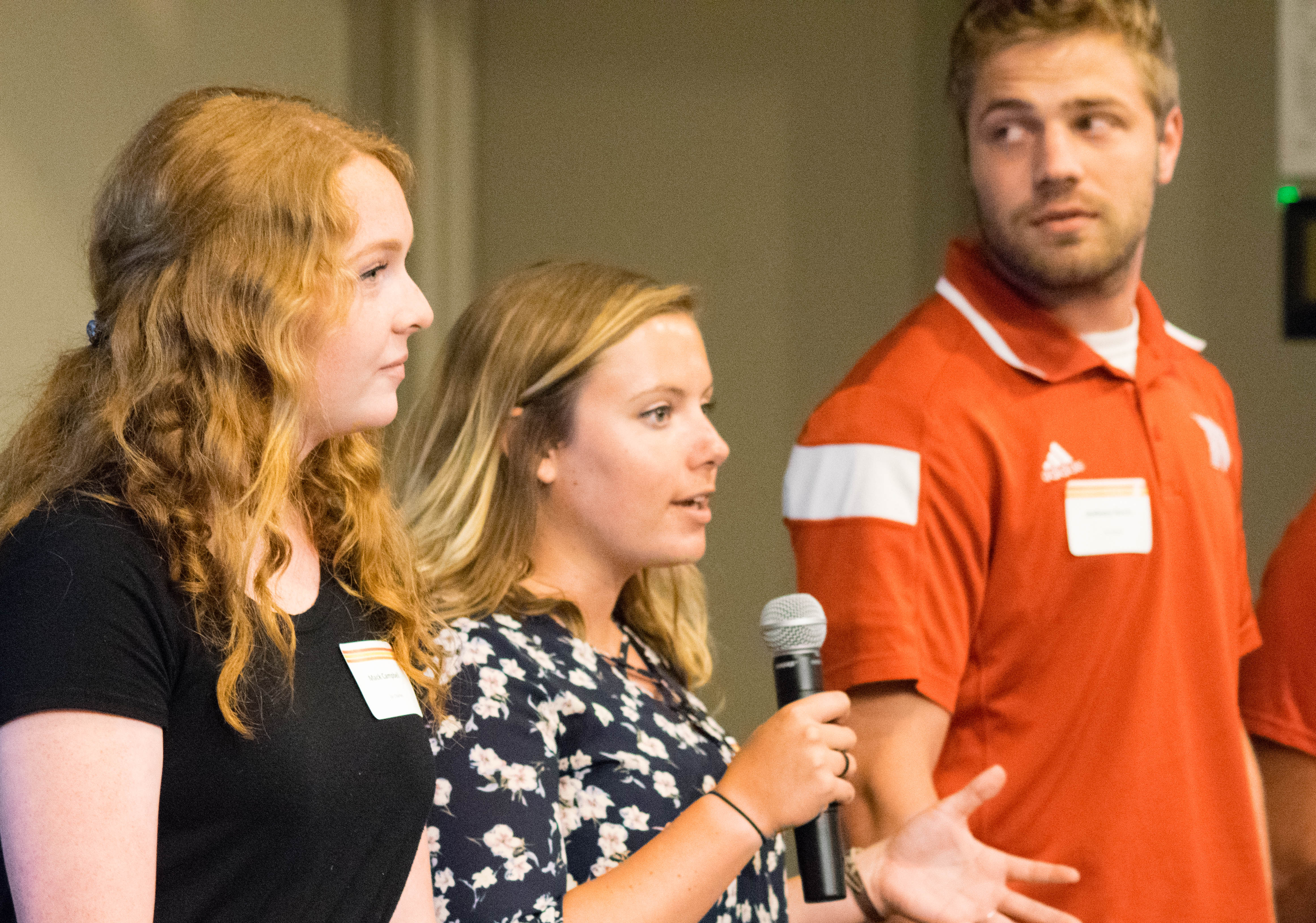 The Lincoln Partnership for Economic Development hosted the second of three signature MyTern events, which are community immersion experiences for interns in Lincoln this summer. This program will continue the Partnership's mission of helping companies address workforce needs in Lincoln. The first event sent interns on a scavenger hunt across downtown Lincoln. The second event offered interns mentorship, social networking, a welcoming community and a voice in the city.
MyTern to Pitch challenged interns build on Lincoln's growth. This Shark Tank-like competition asked interns to design a product, technology, campaign or event that takes this city to the next level. Will Scott, of WRK Real Estate, debriefed the interns on a quick history of the development and change that has occurred in Lincoln over the last decade and then presented the pitch challenge. Teams made up of interns from a cross-section of industries, specialties and companies were given two hours create a three-minute pitch. Each group was given with a laptop, current Lincoln data, a pitch deck template, brain food and a Young Professional mentor.
Once the groups perfected their pitches, it was time to present to a panel of judges representing Lincoln's startup ecosystem, young professional community, city government and major employers. Judges Mayor Chris Beutler, Nikki Archer (State Farm and Lincoln YPG), Blake Lawrence (opendorse), and Jonathan Jakub (LES) scored each team based on the following criteria: community impact, originality, feasibility, presentation quality and time limit. A winner, runner-up and second-runner up were named and each team member of the winning teams walked away with a gift card.  The judges and coordinating companies were impressed by the interns' creativity, collaboration and willingness to jump right in.
A recap of the pitches: 
Winner - Rethink Lincoln: PR campaign to connect with millennials through social media to remove the stigma around Lincoln.
Runner-up - Thinkin Lincoln: Attract talent by hosting cross-discipline case competition.
Second Runner-up - Midwestern Hyperloop Hub Campaign: Make Lincoln the Hub of the USA Hyperloop.
Bee-a-Friend: Develop urban beekeeping to grow the economy and community, and to help the environment. 
Lincoln, Let's Break a Record: A yearly challenge in which Lincoln comes together to break a World Record.
The Hub: Revitalize the North Bottoms neighborhood into a dynamic community hub
Swipe Right on Lincoln: Host a three-day weekend featuring job tours, community speakers and a concert at PBA for out-of-state graduating high school seniors.
The LOTT: Area with food trucks, entertainment, beer garden, local vendors & anyone is welcome to partake or perform.
12th and G Neighborhood Revamp: Develop neighborhoods surrounding downtown to provide housing option for young professionals near where they work.
Silicon Village: Shine the light on start-up companies by creating a farmers market-style startup expo.
Unite Lincoln: Monthly Cultural Festival in the Haymarket Area that Showcases food, visual and performing arts and community involvement opportunities.
Silicon Prairie Growth: Bring more tech talent into Lincoln.
Abe's Ice Fest: Have a winter festival in Lincoln in the middle of winter to make the cold weather more enjoyable.
Connected Capital: An organization providing a series of educational IT courses to community members.
With two events down in the inaugural year of MyTern, the Partnership for Economic Development and sponsoring companies are looking forward to the final event of the summer, MyTern to Toast: A Happy Hour Celebration.
My Tern to Toast: a special mentoring opportunity to hear from people in the community about why they love Lincoln and have chosen to make it their home and the home for their company. This event is Thursday, September 27, 4:30 – 6:30 at the Single Barrel.
Thank you to our sponsors: