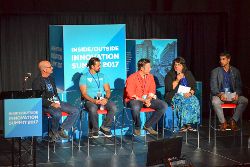 The Lincoln Partnership for Economic Development is proud to have been a major sponsor for the first-ever Inside/Outside Innovation Summit, which brought 600 entrepreneurs, investors, corporate innovators and speakers from around the globe to the Pinnacle Bank Arena. The three-day event included a diverse batch of speakers, networking and matchmaking opportunities, a startup showcase and a $100,000 startup pitch competition.
The conference was centered on matching startups with corporate innovators and forming relationships between the corporate world and the startup ecosystem. During networking breaks and matchmaking sessions, many connections and partnerships were established. Speakers from both corporate and startup backgrounds spoke from two stages addressing a wide range of topics including partnerships, funding, team structure, creating innovation environments, marketing, overcoming growing pains and more.
The startup showcase featured the best in startup innovation from over 64 startups based out of 20 cities. LPED helped to facilitate and fund startup  companies from Australia, Pittsburgh and San Francisco to come to Lincoln for the showcase. Each startup had a booth in the "demo pit" for visitors to learn about their business and had the opportunity to participate in matchmaking meetings with participating corporates.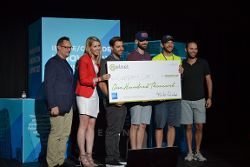 The finale of the summit was the $100,000 startup pitch competition sponsored by Nelnet. Six startups from across the country were selected to pitch prior to the summit and other four were chosen by Nelnet from the startup showcase, just one day before the pitch competition. Lincoln-based startup CompanyCam, a software solution allowing contractors to manage field work with smart photos and instant messaging, won the prize. Luke Hansen, founder and CEO of CompanyCam, said the money will help the company create more jobs for the in Lincoln.
In addition to attending the I/O Summit last week, Christina Oldfather, LPED Director of Innovation and Entrepreneurship, was invited to attend Kauffman's ESHIP Summit for entrepreneurial ecosystem builders in Kansas City. The idea of this summit was to gather regional thought leaders from across the country together to further entrepreneurship and the economy in their home communities. This conference also focused on creating a professional class of ecosystem builders to transform communities and reinvent economic development. 
LPED is excited to be participating in this conversation of building better entrepreneurial communities through both of these successful innovation summits.