This morning, the Lincoln Partnership for Economic Development hosted nearly 600 investors, community members and government leaders at its annual Economic Development Breakfast at the Lincoln Cornhusker Marriott Hotel. At this annual event, LPED proudly presented its efforts and achievements in making Lincoln a great place to live, work and play, while reflecting on the state of the city's economy. Lincoln has experienced tremendous momentum; we have retained vibrant talent, created a rapidly growing startup ecosystem, gained recognition nationwide and built opportunities for the future. However, our work is not done and there are many great things to come for our city.
The Keynote speaker was Brandon Rigoni, Ph.D., who is the Associate Director for Talent-Based Hiring and Development at Gallup. He consults with organizations on how using a scientific, systematic approach to employee selection and development can engage employees, improve business outcomes and increase shareholder value. Dr. Rigoni serves as a thought leader and strategic adviser to Gallup clients and associates on the company's talent-based hiring and development science. He helps set the strategic direction for Gallup's talent-based hiring and development practice, assessing and prioritizing new research and development opportunities. His insights on how people and businesses can capitalize on human talent have appeared on Gallup.com.
Dr. Rigoni spoke to the audience about how the workplace is changing at a rapid pace. More than half of employees say they are actively looking for a new job or watching for openings and 35 percent report changing jobs within the past three years. What are the most dramatic changes occurring and how can companies create sustainable growth amidst these changes? Rigoni stated that Gallup has the answers at a time when the only thing certain - it seems - is uncertainty.  Specifically, Rigoni discussed matrixed work environments, remote workers and millennials in the workplace.
At the annual breakfast, LPED released the Economic Dashboard for Lincoln. This publication has been a joint effort of the University of Nebraska-Lincoln Bureau of Business Research, our Board of Directors and the LPED Steering Committee. First released in 2013, the Dashboard helps us compare our city with our peer and aspiration cities.
Key findings included:
Lincoln improved its performance in the majority of the economic performance metrics
Lincoln continues to experience one of the lowest unemployment rates in the nation, while Nebraska remains a national leader in workforce participation rates
The average hourly earnings in Lincoln increased at a higher rate than the majority of the peer and aspirational communities in the study group.
Lincoln continues to rank high in quality of life measures with short commute times and a low cost of living index
Lincoln needs to continue to improve on the number of SBIR/STTR grants received and the number of patents issued.
The high school graduation rate and ACT scores of Lincoln high school students were among the highest in the study group 
The Dashboard helps us use raw data to evaluate answer two key questions regarding return on investment (ROI): What are we trying to accomplish and how do we know if we are making any progress? Five key markers were identified to judge Lincoln's performance: Economic Performance, Talent, Entrepreneurship, Innovation and Quality of Life. Overall, Lincoln proved to be a great city that is nationally recognized as progressive and on the move.
View the Dashboard, here.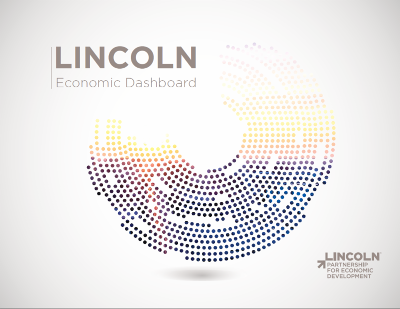 View Dr. Brandon Rigoni presentation slides, here.