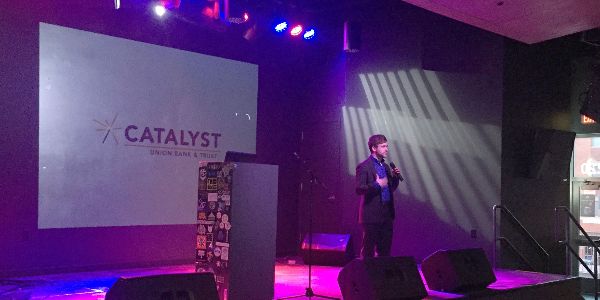 The Lincoln Partnership for Economic Development's (LPED) Innovation and Entrepreneurship office hosted its fifth annual Jumpstart Challenge on Feb. 18. Held in partnership with NMotion (Lincoln's business accelerator supported by the University of Nebraska, LPED and private investors) entrepreneurs were given a chance to win prize money for pitching a solution to Union Bank and Trust's challenge to improve the process for completing a personal financial statement, presented on Feb. 9.
Ben Pankonin, the CEO of Social Assurance won the $1,000 first prize and a chance to work with Union Bank and Trust on creating a platform to manage online business loan applications and portfolios. Second place prizes of $500 were awarded to Sourabh Chakraborty and Doc Bolton with Parse Software Development. Six teams participated in the Corporate Challenge portion of the event. Each team gave a six-minute presentation followed by four minutes of Q and A.
Christina Oldfather, the director of innovation and entrepreneurship at LPED, said personal financial statements are crucial to business lending. "It's currently a very painful, antiquated way that they have of sending people a form and getting information back."
The second part of the challenge called the "Wild Card" featured pitches for a new business or new idea. Gregory Nail, a freshman at the University of Nebraska-Lincoln and founder of Goodi, was this year's winner. His business focuses on the distribution of promotional materials for other companies. He plans to use part of the $2,000 prize money to grow his own brand awareness ... with better quality bags and business cards.
Oldfather is passionate about this event and believes even those that don't win get a chance to get connected in the startup community.
Connections made through events like JumpStart make everyone in the community more aware of the talent across the city.
"It's our belief that those who present their ideas get ahead by having the courage to present their idea, by learning more about the rest of the community ecosystem and connecting with other entrepreneurs and opportunities that exist within the community," she said.
Eventually one or more of these teams will hit a home run with an idea or solution.
We understand that it will take more time to fully grow and integrate higher levels of entrepreneurial and corporate innovation in Lincoln. We thank all of our supporters and investors who provide the money, the mentorship and the ongoing nurturing of young startups and young ideas.