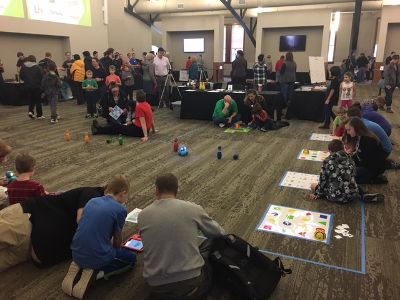 The third annual Hour of Code kicked off National Computer Science Education Week in Lincoln. More than 500 people gathered for a morning of learning computer code and interacting with technology at the Nebraska Innovation Campus. National Computer Science Education Week and the Hour of Code were created by Code.org to expand access to computer science.
People of all ages learned the basics of coding through self-guided tutorials. The tutorials were developed by Code.org and featured popular characters from "Star Wars," Disney's "Frozen," Minecraft and Angry Birds. Mentors were on-site and available to help the families work through the activities. But families didn't just spend their time on a computer. The Tech Fair enabled family members to get a hands-on experience with robots, virtual reality and other technology.
"We wanted to show kids early on that coding can be fun and that it goes beyond sitting behind a computer," said Christina Oldfather, Director of Innovation and Entrepreneurship with the Lincoln Partnership for Economic Development.
Oldfather said the need for software developers and computer engineers is increasing. According to Code.org, there are more than 517,000 open computing jobs nationwide. And last year, only 42,969 computer science students graduated into the workforce.